Google Chrome is one of the best browsers now and what makes it better than others is a huge collection of nice browser extensions which enhances the user experience. Apart from speed, chrome is praised for its simplicity, security and great extensions. They'll increase productivity, security, and make the overall experience of using this already-great browser even better. Being a blogger myself I know how much it is difficult to manage multiple blogs, works with clients, and to stay productive. But fortunately there are some great chrome extensions which help me in this. Here is my list of 10 awesome chrome extensions for bloggers and entrepreneurs.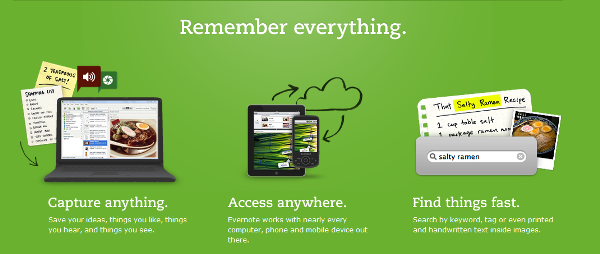 I would like to call Evernote as an extension of my brain. Evernote helps you to remember anything and everything that happens in your life. From notes to ideas to snapshots to recordings, put it all into Evernote and watch as it instantly synchronizes from your iPhone to your Mac or Windows desktop. Users can take notes, clip web pages, snap photos using their mobile phones, create to-dos, and record audio. Additionally, the Evernote web service performs image recognition on all incoming notes, making prints or handwritten text found within images searchable. Another useful extension from the Evernote team is Evernote web clipper which lets you save interesting stuff you see on the web. See something you like, clip it and it will be added to your Evernote account.
Awesome Screenshot is a really awesome extension for Google Chrome which allows you to take an image of the website you are viewing and save it to your computer or share it online. Once you click the Awesome Screenshot icon icon next to your address bar, it will give you the option to either take screenshot of the entire page, selected area or the visible part of the page. The screenshots once captured, can be edited by adding text, shapes like rectangle, square, circle and add lines, arrows and can be cropped. There is a blur option for erasing any private information on the web page.
Stay Focused is an extension designed to block those time-wasting sites that can suck the life out of your working day. For bloggers who lack the self-discipline (like myself) not to check the weather, score, stocks, or social networking sites when they should be focusing, it can be a real help. The idea of the extension is that you can block groups of sites for specified periods of time – either an amount of time per hour/ day/ week (eg you can access the sites for 15 minutes an hour) or between certain times of the day. Just type in the website URLs you find hard to resist, and enter the maximum length of time you want to spend on them.
WebRank SEO is one of the best Google Chrome SEO extensions. WebRank SEO gives you website ranks (Google PageRank, Alexa Rank, Compete Rank and Quantcast Rank), traffic graphs, social statistics, pages indexed and backlinks in various search engines (Google and Bing). You can analyze your competitors just by one click. A must have tool for your SEO endeavors.
TweetDeck makes it easier for bloggers, marketers and power users to track the real-time conversations they care about. It brings more flexibility and insight to users through a customizable layout that lets you keep up with the people and topics that matter most to you. And, you can join the conversation by tweeting, sharing photos and links to news stories, and more.


Feedly is a fast and stylish way to read and share the content of your favorite blogs. Feedly integrates with Google Reader, Google+, Twitter and Facebook. It had a number of different "views" you could use to browse your feeds. Feedly syncs in real time with Google Reader, so changes made in Feedly should reflect in Google Reader as well. If you haven't tried Feedly before, this would be a good time to check it out.
English is not the mother tongue for many bloggers (at least not in my case), so a dictionary is a must have for many of them. The wonderful Google Dictionary extension makes it easy to view definitions easily as you browse the web. Just Double-click any word to view its definition in a small pop-up bubble. Another notable feature is that foreign words are automatically translated to your language of choice.
LastPass is a password manager that makes web browsing easier and more secure. LastPass captures passwords that other managers won't including many AJAX forms, and allows you to make strong passwords easily. You can import from most major password storage vendors (such as RoboForm, 1Password, KeePass, Password Safe, MyPasswordSafe, Sxipper, TurboPasswords, Passpack, Firefox and Internet Explorer's built-in password manager) and export too.
 9. SlideRocket


SlideRocket is one of the best online presentation software available today. It lets users create, manage, share and measure presentations. SlideRocket not only allows you to create stunning presentations but also to manage them intelligently, share them securely and then measures the results. This Web-based presentation tool is a great online alternative to PowerPoint and Keynote. The application, built on Adobe's Flex platform, features many professional-grade design tools and includes libraries that centralize slides and share presentations and objects within a company.
Gmail Offline beta is a Gmail app built to support offline access, allowing mail to be read, responded to, searched and archived without network access. This app makes it simple to take your emails on the go, even if you don't have an internet connection. Emails appear instantly when they're received, and past emails are synced to your computer locally blazingly fast. The app even downloads attachments so you can access them when you don't have internet access.
 Did I miss any good Chrome Extensions? Let me know in the comments.
Typical geek, night owl, gadget freak, budding entrepreneur, WordPress & Ruby enthusiast.