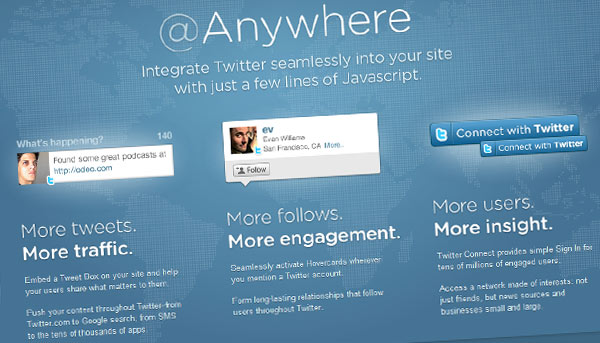 Today I will show you how to create a custom looking retweet box like the one I have at the end of this post. This custom retweet box is more interactive than the traditional retweet buttons and encourages your readers to retweet your post. After implementing this retweet box the number of retweets in my blog increased considerably.
This retweet box is based on twitter @anywhere frame work. @Anywhere is a new collection of free, simple web tools and APIs that enable websites to easily integrate Twitter functionality into their website. In other words, Twitter users will be able to engage with existing Twitter features from anywhere on the web. @Anywhere makes existing Twitter functions (such as replying, posting Tweets, and following) available outside of twitter.com. Connecting to Twitter via third party sites that integrate @Anywhere is just like using a third party app.
How to create a custom retweet box using twitter @anywhere:
In order to use @Anywhere, you must first register your blog for a free API key with Twitter. For that go to this URL http://dev.twitter.com/anywhere/apps/new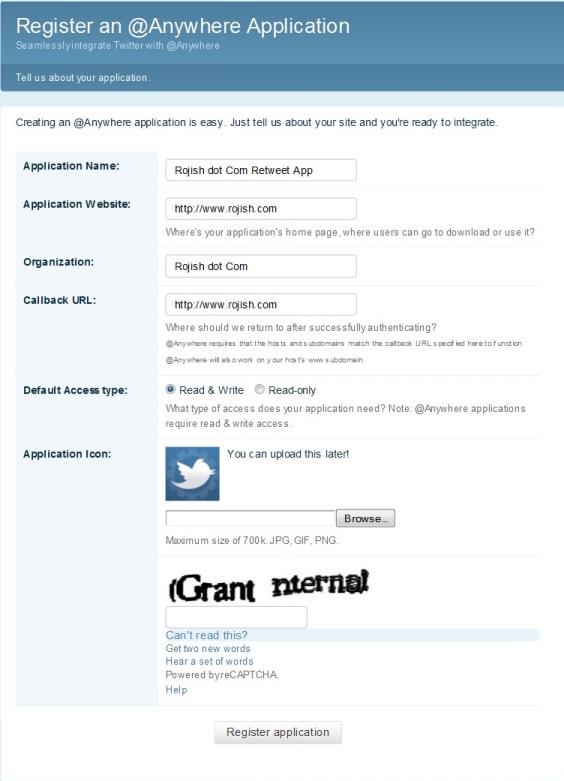 1.     Give your application name [I named my app as Rojish dot Com Retweet App]
2.     Application Website: This is your application's home page; put your blog's address here.
3.     Organization: Name of your organization, your blog's name is enough.
4.     Callback URL: This is the place where the application returns after successful authenticating. If you are using the @anywhere application for a blog then leave your blog's home page as Callback URL.
5.     Default Access Type : This is the type of access granting to the application. For the @anywhere application you should give Read & Write access.
6.     Application Icon : This is not must, but if you want then you upload an icon for your application.
7.     Enter the Captcha and Click Register Application.
Now your @anywhere app is created now we want to integrate it to our blog.
How to integrate @anywhere to our blog:
There are a lot of [email protected] plugins available but I prefer [email protected] plus for integrating @anywhere functions in your blog.
1.     Install and activate the plugin.
2.      Go to settings –> Twitter @anywhere plus.
3.     Enter your Your @Anywhere API key (You will get this after registering your application).
4.     Auto-linkification of @usernames – Enabling this will turn twitter usernames in to links.
5.     Hovercards – Enabling hover cards will show hovercard when you move the mouse over a twitter username.
6.     Follow button – This is an easy way to add follow buttons inside the posts.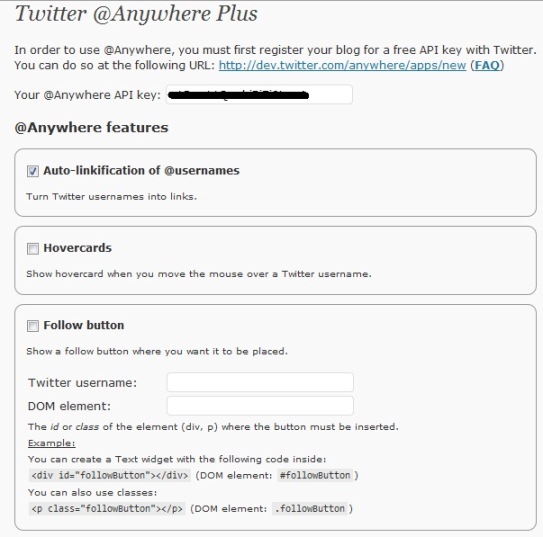 7.     Tweet Box – Here we give settings of our custom retweet box.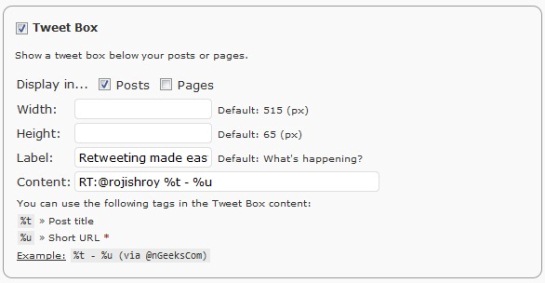 You can choose whether to display your retweet box in posts or pages or both.
Now enter the width and height of your retweet box (default is 515px and 65px respectively).
Label: Here you can give the text to show above the retweet box. You can give 'Retweeting made easy' , 'Look how Look how easy I made it for you to RT' etc. Let your imagination fly. Attractive labels attract more retweets.
Content: Here you can give the default content in the retweet box. You can use the following tags:
%t – Post Title
%u – Short URL
8.     URL shortener: You can choose bit.ly, is.gd URL shorteners or choose None to leave it to default WordPress URL shortner. But the WordPress shortened URL's will look like https://rojish.com/?p=123 . This doesn't look well. So I prefer bit.ly shortening (also studies shows that bit.ly links are more likely to click by twitter users). For that you have to register a bit.ly account first. Then you can get your bit.ly API from this link. Add this API to twitter @anywhere plus settings. Don't forget to save settings.

I hope this tutorial was helpful to you.
Typical geek, night owl, gadget freak, budding entrepreneur, WordPress & Ruby enthusiast.