Increasing your chances of ranking well on Google starts with finding the best keywords to target. The words in the title of your blog post, sub headings, in content of the post, and in the anchor text of links to your blog have a great importance in determining how you will be found through search engines. It's quite possible that you are targeting the wrong keywords. If you want to be on the top spot with your blog and writing, you have to master the art of finding the right keywords to write about.
So what is a keyword?
Keyword is a word or a group of words that are being used by people to key in search engines when they are looking for something.
Taking the time to properly research your keywords will help you to attract more traffic from search engines, leading to making more money, and will also help you to generate fresh content ideas. While keyword research does require some extra work, the results you get are very impressive if you take your time and put the right effort into it.
Understanding the long tail and short tail keywords
The keywords can be classified in to two – long tail and short tail keywords. The term 'long tail' is used to describe the strategy of targeting less-competitive niches rather than the hugely competitive broad keywords. A long tail keyword is something like 'Web Design in New York' whiles a short wail keyword is something like 'Web Design'. Short tail keywords are composed of one to two words while long tail keywords are short phrases composed of more than two words.
Why you should focus on long tailed keywords?
When you launch a brand new website in a competitive niche it will be very hard to rank for short tailed keywords. Your competitor's may be in the market for years and have a huge amount of trust, tons of content and back links to their websites. You will likely to fall if you try to beat them right from the start for the most potent short keywords.
For example if you are a Web design company based in Delhi, India and looking for targeting for the keyword 'web design company' you will have a hard time because even though keyword have got 368,000 searches globally, the competition is very high ad your chances of reaching top is limited.

Now I you target a little broader keyword like 'web design company india' the number of searches is less, but your chance of getting top in the results is more because the competition is less than the case above.

If you focus on more specific keyword like 'web design company delhi' even though the number of searches are very less, you can reach the first page of search results without much hard work. Another important thing is that the visitors you are getting from that keyword will be highly targeted, mostly belongs to the city where your company resides and hence your chance of converting the visitors in to customers is very high.
If you are targeting longer keywords the competitiveness decreases and the potential of ranking increases. Research on the search behavior shows that the searchers are becoming more specific in their queries and using long tail keywords more as this saves their time. Google Instant has also given a boost to the long tail searches as the long tail keyword suggestions offered by Google when the searcher types the query is easy to select and search for.
Getting familiarize with keyword research tools
A keyword research tool tells you exactly what words and phrases people use in a search query and it tells the volume – relative popularity of keywords. Most keyword research tools need no downloads and can be accessed from any computer with an internet connection. There are plenty of keyword research tools available, but I recommend using the best and free one – Google Adwords Keyword Tool.
Getting started with Google Adwords Keyword tool
The Adwords tool was designed for helping in PPC campaigns but it became a vital tool for keyword research. Google Adwords identifies the number of searches for specific words or key phrases.
First you have to go to Adwords tool page.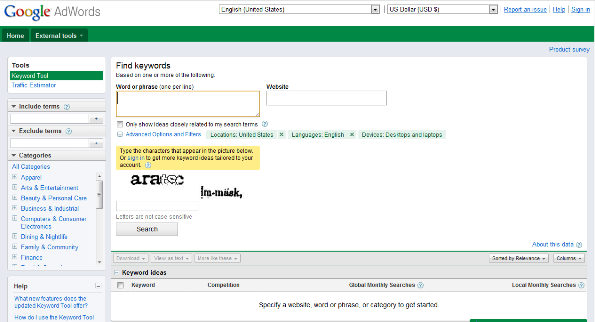 Then you have to type in the phrase you are going to research. Enter the security word (you will have to do this occasionally if your session times out). Click on "Get Keyword Ideas". Alternatively you can type in the name of your competition website and you will get keyword ideas. This extremely useful if you are planning to spend money for Pay per Click campaigns, you will get an idea about the keywords your competitor is paying for.
How to utilize Keyword tool for creating post titles
Now let us look how to use Google Adwords tool to form post titles that have potential to bring good search engine traffic. Let us consider an example of blog writing about android applications. They created a list of top android applications and named it as 'Top Android Applications'. Now let us have a look on Adwords tool for the search volume of this keyword.

It shows that the number of searches receiving for the keyword 'top android applications' is 301,000 which is very good. But have a deep look, in the keyword tool page there is something called keyword ideas. This will give you some clues to what to title your post and what keywords to use throughout your article.

You can see that the keyword 'best android applications' get a search volume of 550,000 that is almost double of our first keyword 'top android applications'. So you think, which will be our best bet? Should we name the article as 'Top Android Applications' or 'Best android Applications'?
Tweaking your blog titles for readers and search engines
Let us consider another case, you wrote a post about blogging mistakes and named it '10 Deadly Sins of Blogging'. But how many people do you think will enter the term 'deadly sins of blogging' while searching? At the same time if you named that article '10 Blogging Mistakes You Should Avoid' then you have a higher chance of coming top in search results. So now you are in confusion, you have to leave a cool headline in order to attract search engine visitors.
If you are a WordPress user then you are very fortunate to have a solution for this problem. Most of you may be already using the All in One SEO plugin. All In One SEO Pack allows you to tweak the post title independent of what is actually being displayed in the blog. This way you can have a nice attention grabbing title for your blog readers and a long keyword rich title for Google. This is very helpful because usually attention grabbing headlines get higher click rate in social media sites where as the keyword rich titles perform well in search engines.
Are you too busy to do keyword research?
Keyword research is a process that you can't avoid, but are you too busy to do it? Then there is a useful tool that will save your time. Keyword Winner is an excellent WordPress plugin which will research keywords for your blog posts easily. You will get targeted, highly searched, non-competitive key phrases for every post using the Keyword Winner WP plugin. When you type to create a headline in your blog post, the results automatically display making it easier for you to get instant information so that you can choose the best headline based on its competitive nature and search trend each time. The plugin will cost you $47, but if you are a person who values time more than money you will find this plugin extremely useful.
Today's Discussion
Do you spend time for keyword research? Do you think it is important? What are the tools you use for keyword research? Let us discuss in comments.
Typical geek, night owl, gadget freak, budding entrepreneur, WordPress & Ruby enthusiast.