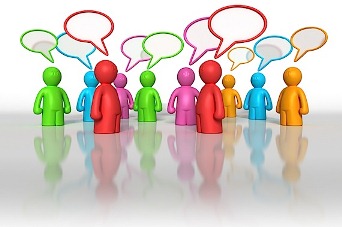 Unless you are a total stranger to blogging you may already know the importance of comments. Comments represent the level of activity in a blog and it is a major factor differentiating static websites and blogs. Consider this real world example – Have you ever gone to a mall and noticed that some stores have many customers while others have zero? When a new customer enters the mall will he choose the store with customers or those with no people? This is applicable in blogging too. Readers have a tendency to stick with the blogs with comments while they always avoid the blogs where no discussion is going on. So still your blog posts are showing zero comments then keep this in mind – it is the time for action.
So what are the secrets for getting more comments?
1. Be the first commentator yourself
Our world is populated in such a way that there are more followers than leaders. Most people want to become followers rather than leaders. Consider our first example; no one is going to enter those empty stores till someone else enters first. Most people will not comment on blog posts that don't have any comment on it. The first one is the hardest one to get, but there is an easy way to get it – simply do it yourself. Yes, find a cute name, get a nice gravatar and comment on your posts.
I admit, I used this strategy during those days of blogging when I got tired of seeing 'zero comments' all over the blog. And that worked magically, I started getting genuine comments. Now there is no need for me to do that because I am getting an average of 15 – 20 comments for each of my blog posts. But for beginners this is the single best strategy you can do today itself.
2. Ask your readers to comment
Including specific questions in posts definitely helps get higher numbers of comments. Feel free to ask your readers for their input.  Close your post with 'So what do you think?  Please tell us your thoughts in the comments section, we'd love to hear from you!' Asking questions to readers is a great way to get comments but if there is no reply even after several days then it does not look good. If so happen then go back to the step 1, seed the first comment yourself using an alias.
3. Make it easy to comment
May be you have wrote an excellent post and many readers want to drop a comment. But if your blog requires a login for posting comments then how many of them you think will still interested in commenting? This is same for the case of captcha's. You may want to prevent spamming but captcha's always pull back readers from commenting. A combination of Akismet and GASP plugin prevents spam to almost 100% then why you still add captcha's and puzzles? One of the blogs which I visit regularly needs a puzzle to solve in order to post comments. Sorry buddy, you wrote great articles but I can't spend the whole day solving those puzzles.
4. Reward Commentators
The readers took their time to comment on your blog, and then why not reward them? There are many ways to encourage readers to post comments. One of the most popular one is Top Commentators plugin. This plugin will add a sidebar widget to show the top commentators in your blog. Unlike the default WordPress links, the links in the top commentator's widget are dofollow and hence will get SEO benefits as well as additional traffic. People that comment often on your blog are your most loyal readers and this is a great way to reward them. You can even think about offering a free ad space to the top commentator of that month.
Another way to reward your commentators is the CommentLuv plugin. Unlike the top commentator's widget, which only rewards most active readers, CommentLuv gives every commentator a little drop of link juice. This plugin will visit the site of the comment author while they type their comment and retrieve a selection of their last blog posts, tweets or digg submissions which they can choose to include at the bottom of their comment when they click submit. After I installed CommentLuv in this blog I saw the number of comments got almost doubled in a short time.
5. Make the comment links Dofollow
Making all the comment links dofollow will encourage readers to comment because they will get a part of your link juice and thus get a higher search ranking. You can easily do this by the addition of a dofollow plugin. But this is a topic of controversy.  According to Google guidelines all the blogs should nofollow their links in the comment section in order to prevent spamming. Removing nofollow links violates Google guidelines and this may result in getting a hard Google slap. But recently I saw some of the popular blogs becoming brave enough to make all their links dofollow. So whether to make your links nofollow or dofollow is up to you. But Keep your eyes open; once you make your links dofollow you can see hundreds of human spammers posting crap comments in order to steal link love.
6. Respond to comments
No one wants to talk with a wall, so your readers too. They need response for their comments. If you're not willing to use your own comments section why would your readers? If someone leaves a comment, interact with them. Discussions should not be one sided. If a new visitor notices that you are not replying to comments he will never want to comment in your blog. Replying to comments is very important, atleast during the early days of blogging. Some of you may complain that it is very time consuming, but in fact it is not a waste of time. Most of those commentators may become your regular readers. I also recommend you to install Reply Me plugin. Reply Me sends email notification to the reader when their comment has a reply. This is a great way to continue the discussion.
7. Start or join a commenting tribe
Commenting tribe is a group of people who get together to comment each other's content online. You all agree to comment on each other's blog and this will help to maintain a level of minimum comment activity in your blog. The best place to find small commenting tribes is facebook. But most of the time such groups is a waste of time because the members are interested in promoting their content only. So it is better to start a private commenting tribe yourself. First go and create private facebook page. Find blogs in your niche that provide good content, but don't get much traffic yet. Have a look at their Alexa Rank; see how many comments they get. Now contact those blog owners and let them know about your tribe. Ask them to join if they are interested. Always make sure that your tribe will not have more than 20 members because above that it will be difficult to control activities.
8. Comment on other blogs
Commenting on other people's blog is a good way to get the blog owner's attention as well as a comment on your blog. Most blog owners (not the big fishes) will check your blog and will drop a comment if your posts are worth commenting. But you should follow some good practices to get best out of commenting on other blogs. First off all don't leave 'great post', 'nice share' type comments. No one is going to approve those comments and even if it is approved no one is going to notice it. Always try to add value to the discussion through your comments. Also try to be the first one to comment because blog readers rarely reads comment after first ten so chance of getting traffic is very less.
So these are proven techniques to generate more comments for your blog posts. None of them are difficult, so take action today itself. Do you know any other methods for comment generation? Please share your opinions.
PS: I added the sensational Google +1 button to my blog. So if you like this post click it and see the button in action 😀

Typical geek, night owl, gadget freak, budding entrepreneur, WordPress & Ruby enthusiast.